This Year's Best Sustainable Father's Day Gifts
Need the perfect Father's Day gift for an ethical, environmentally-conscious Dad? From natural recycled materials to food grade silicone, coffee products to sustainable packaging, we've got the best sustainable Father's Day gifts and gift ideas for your dad or father figure.
This Father's Day, try something different than a tie or a gift card. Instead, give your dad the gift of a more sustainable lifestyle. 
There's no better way to say, "Hey Dad, I love you. I want you here for the long haul, and to keep you and the world around us as healthy as possible."
But how do you choose the right sustainable present for Father's Day? How do you find a gift that's environmentally friendly that your father will actually love?
Relax — we've got you covered. By the end of this article, you'll know exactly how to find a great sustainable gift for Dad. We'll also give you 6 of this year's best sustainable Father's Day gifts.
So let's get started. After all, it'll be Father's Day before we know it!
How to Choose an Eco Friendly Gift for Dad
It can be tough shopping for Father's Day, especially while keeping the planet in mind. Thankfully, there are more sustainable products on the market than ever before. So approach this gift selection process with confidence!
If you find a trustworthy, ethical company that makes useful, innovative products, you're on your way to finding the perfect gift.
Here's a quick checklist to find a Father's Day gift that promotes a sustainable lifestyle:
Make sure the company has a visible mission statement dedicated to ethical sourcing and sustainable design.

Do a majority of the company's products utilize sustainable or recycled materials? 

Are their products made to high criteria like FDA approval, food grade certification, or global organic textile standard?

Most importantly —

do they make eco-friendly products that your dad will love?
Armed with this checklist, you're ready to find a thoughtful gift for your father. Let's take a look at some great gift options for eco-conscious dads this year!
This Year's Best Sustainable Fathers Day Gift Ideas
We've selected 6 sustainable, innovative products that are wonderful Father's Day options. Each one is a gift dad will be thrilled to receive. Whether he's a coffee lover, foodie, or lives his life on the road, we have a gift your father will love.
Ergonomic 4pc Damascus Steak Knife Set
Do you have a stylish dad when it comes to the kitchen? He'll love this ergonomic 4 piece Damascus steak knife set. Each set of knives is vacuum tempered for hardness and is made from forged 67-layer Damascus steel with VG10 core.
Choose from 4 handle styles, each made from sustainable material. You can select classic black G10, white marble, black marble, or the gorgeous abalone shell + trans-resin finish. Each handle option is on a full tang bolster, and comes with a unique design that extends onto the knife blade, which is hand-polished for dramatic effect.
Dad won't ever struggle to cut his steak (or vegan steak) again with these knives. They're honed to an ultra-sharp cutting edge that ranges from 9.5 to 12 degrees on each side of the 2mm thick blade. 
Precision Collapsible Manual Coffee Grinder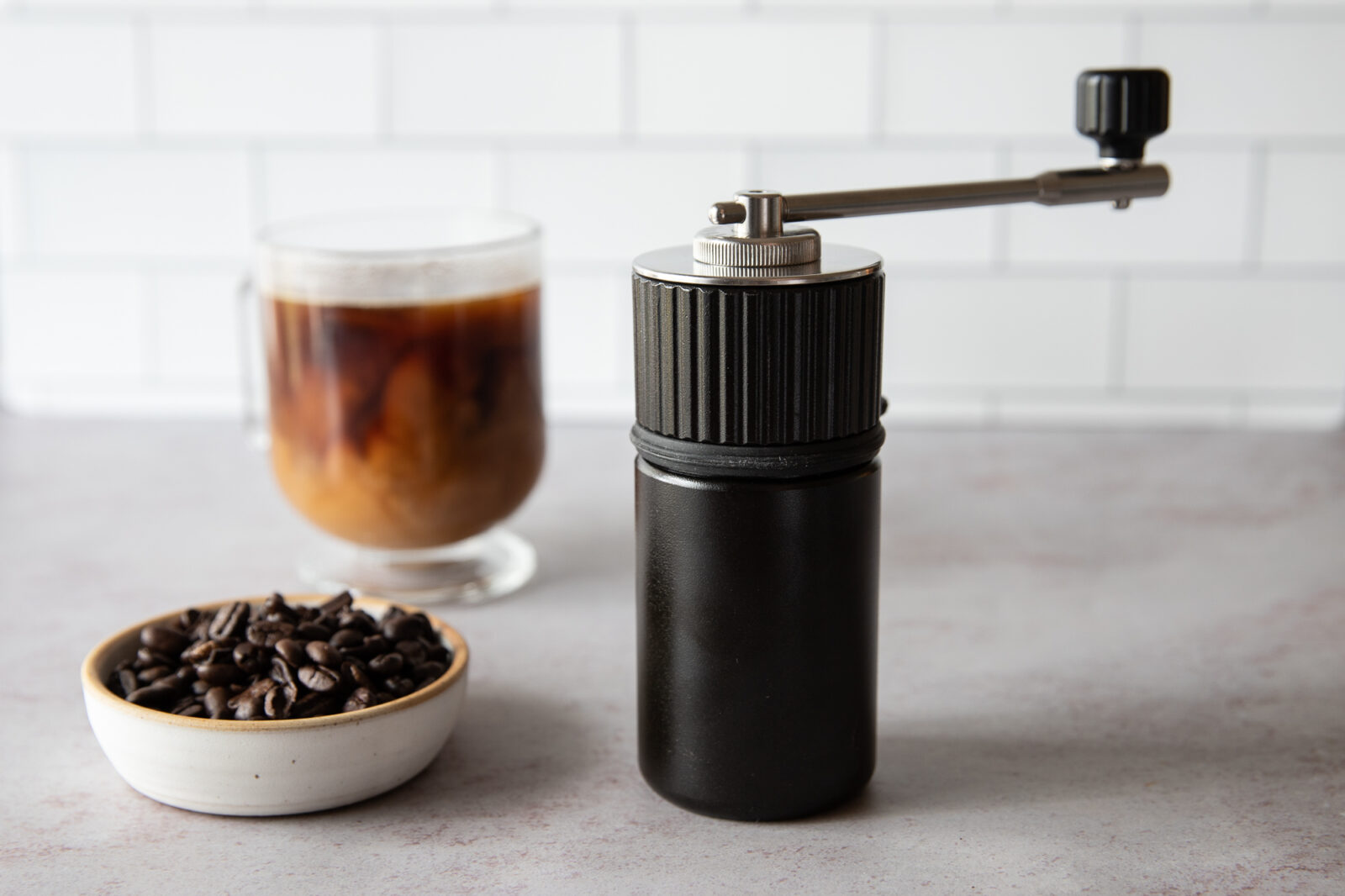 If your dad is a coffee lover, this precision manual grinder is the perfect Fathers Day gift. He'll be able to create his own small batch of coffee every day, at home or on the go. 
This highly sustainable gift contains zero plastic — it's crafted from casting aluminum and stainless steel. It features two stainless steel conical burrs that provide world-class precision and function.
Even the pickiest coffee aficionado will love the flexibility of this grinder. It can handle all desired grinds, from ultra-fine Turkish coffee to coarse French press settings. It's the perfect blend of sustainable design and robust flavor. 
Does dad make his coffee on the go? This grinder is collapsible and easy to transport! It has a collapsible design and removable handle that allows it to easily fit in any size travel bag. 
Pair this grinder with ethically sourced organic coffee beans for a great gift set. Choose a company with transparent fair trade, ethical sourcing and human rights standards. If you want to support small farmers, you can find some great options in emerging coffee markets like Haiti and Rwanda.
Laser Engraved Stainless Steel Bottles & Flasks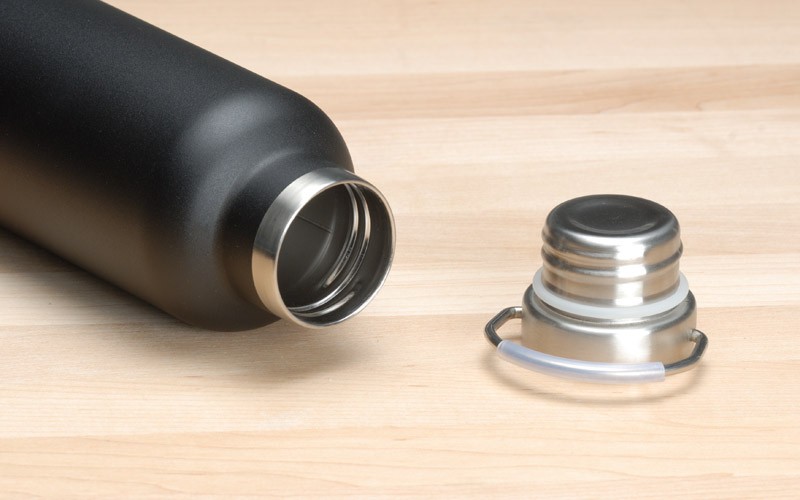 Looking for an eco friendly gift with a personal touch? Help your father reduce paper and plastic drinkware waste with an engraved stainless steel bottle or flask.
These flasks and bottles are guaranteed to be BPA and phthalate free and made of food grade stainless steel components. They're double walled and vacuum insulated, with a copper-lined inner wall and a screw cap engineered to be leak proof. Your dad's beverage is guaranteed to stay fresh for up to 24 hours.
Variety is the spice of this Father's Day gift idea. These flasks and bottles are available in five sizes (from 350 ml to 1,000 ml) and a myriad of colors — classic steel, blue, black, aqua, white, peach and lavender.
Ask for personalized engraving for that final personal touch. Your stainless steel bottle will be laser engraved to your specifications with a special message. Make sure to give some extra time for engraving — customized products like this one will take 1-2 weeks to process.
Eco-Friendly Synthetic Felt Lunch Bags
These reusable bags are great for the dad who packs a lunch. Before you say "come on, a bag?", take a look inside what makes these trendy totes different.
It starts with a wide tote opening with an integrated double handle, which makes packing a breeze. There's a large zipper within the opening that keeps smaller items secure if necessary. Each eco-friendly synthetic felt option comes in two sizes and a variety of colors.
The overall design of these lunch bags is stylish and appealing. Your father won't feel like he's carrying "a bag lunch" — it feels more like a small tote bag. They are also easy to clean and machine washable. 
Natural Fiber Bento Box
Does your dad need a sturdier food storage option for lunch and travel? A natural fiber bento box is a durable, renewable way for him to take his love for nature on the go.
Minimal's natural fiber bento box is made from recycled rice husks. This helps reduce carbon emissions from open burning on paddy farms. The resulting bento box is incredibly strong, chip and crack resistant, and built to last for years. (And after that, it's 100% compostable — making its entire life cycle sustainable and environmentally friendly).
The Minimal natural fiber bento box won the prestigious NY Now Eco Choice Award. Starting at just $20, it's a wonderful Father's Day gift option for dads who love affordable and sustainable design.
Stainless Steel Insulated Food Jar
Take your dad's Thermos game to the next level with a highly sustainable insulated food jar from Minimal. 
Whether he wants to keep his homemade soup hot or ice cream cold, Minimal vacuum-insulated food jars are designed to keep contents fresh for hours. The jars are constructed with double stainless steel walls and integrated copper thermal technology. 
If your dad loves innovation and multi-purpose functionality, this is the perfect gift. The seal-tight lid doubles as a large bowl. The jar also comes with a foldable food grade stainless steel spoon for easy eating.
For the "conservative camper" dad, grab a solid color like gunmetal or limpet aqua. For the dad with a "fun streak", pick up the food jars designed with a "splatter" of chocolate or strawberry.
Sustainable Gift Companion: Natural Fiber Travel Cutlery Set
If you need a small "companion gift" to complete your dad's present, check out this natural fiber travel cutlery set. This cutlery set is reusable and made from fully recycled rice husks. Each fork and spoon is chip and crack resistant and comes in a snap-fit case.
This isn't a "one-time use" product. The set is food grade quality, BPA-free, and dishwasher safe. It's sustainable material designed to stand up to years of meals on the go. 
This cutlery set's price has as much appeal as its eco-friendliness At $6.99, you can't go wrong!
Honor Your Father (and Mother Earth) With Your Gift Idea
Your dad deserves a unique gift idea this year. Give him a present that shows you care about his health, well-being, and carbon footprint. 
A sustainable gift like the ones listed above shows your dad how much you value his presence. It also gives him a Father's Day gift he can proudly use with the environment in mind. 
Enjoy shopping!
Minimal is proud of its commitment to ethical sourcing and sustainable design. Our conscious design process combines eco-friendly sourcing with sustainable materials. We design innovative products that you can proudly use for a lifetime. Our environmentally responsible products make wonderful gift ideas. Happy Fathers Day!